If you need a website built, you won't be in the wrong if you go with WordPress, the largest CMS in the world – used by online vendors, photographers, and everybody else in need of a fast website.
Why, you ask?
Well, if nothing else, it's because it's highly customizable with more than 50,000 free plugins in the official WordPress directory, not to mention all the premium ones.
As it's essential for a website to be both aesthetically pleasing and highly functional, these are just a few of the WordPress plugins every web designer should use.
Elementor Page Builder

We all know that the page builder makes life a lot easier for the web designers. Even if are a newbie WordPress user, the page builder can help you to create a completely custom unique design for your site without writing a single line of code.
Elementor is one such plugin that will help you to create stunning pages for your site with the drag-and-drop interface without any coding. This plugin comes in free as well as pro version with a number of great modules and design options.
You can define section height and width, resize columns, you can position the content as per your requirement, you can define the gap between each section to make sure your content looks neat.
These 28 widgets are just what you need to build a web page:
Heading – Add eye-catching headlines.
Image – Control the size, opacity and other settings of images.
Text Editor – A WYSIWYG text editor, just like the WordPress editor.
Video – Add YouTube \ Vimeo to your page.
Button – Controlling every aspect of the button design.
Image Box – A box that includes image, headline and text.
Testimonials – Customer testimonials that show social proof.
Icon – Place one or more of 600+ icons available.
Icon Box – Works the same as the image box, only with icons.
Social Icons – Icons to your social pages like Facebook / Twitter.
Image Gallery – Displays your images in an aligned grid.
Image Carousel – A rotating carousel or slider of chosen images.
Icon List – A bullet list with any chosen icon and text.
Counter – Show stats and numbers in an escalating manner.
Progress Bar – Include an escalating progress bar.
Tabs – Vertical or horizontal tabs that display different pieces of content.
Accordion – A collapsable display of content.
Toggle – Like Accordion, for FAQ pages.
Alert – A colored alert box to draw the attention of the visitor.
HTML – Insert code into the page.
Shortcode – Easily insert shortcodes from any plugin into the page.
Menu Anchor – Link any menu to this anchor.
Sidebar – Add any sidebar into the page.
Google Maps – Embed maps into the page.
SoundCloud – Add audio bits from SoundCloud.
Divider – A line that divides different elements in the page.
Spacer – A space that divides the various elements.
Columns – Create inner columns within the column.
W3 Total Cache

One of the most trusted and thus most recommended WPO frameworks is W3 Total Cache. This free WordPress plugin increases website performance, reduces loading time and ultimately improves SEO and user experience.
Key features:
Compatible with shared hosting, virtual private / dedicated servers and dedicated servers / clusters
Transparent content delivery network (CDN) management with Media Library, theme files and WordPress itself
Mobile support: respective caching of pages by referrer or groups of user agents including theme switching for groups of referrers or user agents
Accelerated Mobile Pages (AMP) support
Secure Socket Layer (SSL) support
Benefits:
Improvements in search engine result page rankings, especially for mobile-friendly websites and sites that use SSL
At least 10x improvement in overall site performance (Grade A in WebPagetest or significant Google Page Speed improvements) when fully configured
Improved conversion rates and "site performance" which affect your site's rank on Google.com
"Instant" repeat page views: browser caching
Optimized progressive render: pages start rendering quickly and can be interacted with more quickly
Reduced page load time: increased visitor time on site; visitors view more pages
Improved web server performance; sustain high traffic periods
Up to 80% bandwidth savings via minify and HTTP compression of HTML, CSS, JavaScript and feeds
Compact Archives

Usually, blogs display a long archive of blog content published over days and months. Without customization, the display is a long list of boring posts, which is useless because a blog publishing more than one post a day needs a better method to display all the content, without taking too much time.
This functionality is performed by Compact Archives. Sites like WPbeginner use the plugin to display their content publications in a more unified way as presented: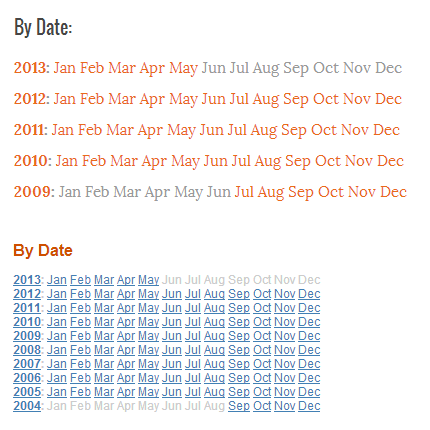 Monarch

Monarch is one of the best social media plugins for WordPress that will help you to increase the traffic from social networking sites. As you design a new website, the social sharing option is one of the most important and must have features.
Monarch offers you a variety of different placement options so that you can maximize the conversion and number of social sharing. You have the following options as far as the placement is concerned.
Floating Sidebar
Above & or Below Content
On Images & Videos
Automatic Pop-Up
Automatic-Flyin
When we talk about the design of the social sharing buttons, you have all the modern designs to choose from. You will have full control over the plugin and the powerful control panel will make things a lot easier for you.
Optin Monster

With the help of drag and drop page builder, Optin Monster helps the user to build a landing page with various user intents like signing up for free courses, email newsletters, subscriptions and more.
It offers Multiple Form Types, A/B split testing, page level targeting, built in analytics and so on. The plugin integrates with almost all email marketing services like MailChimp and Emma.
Key features:
High converting template library (100% responsive mobile-friendly).
8 different types of optin forms.
Powerful page level targeting to build a hyper-segmented email list.
Custom user-centric output settings to target visitors, logged-in users or a mixture of both.
Category, tag and custom taxonomy output controls for robust campaign segmenting.
Custom analytics with Google Analytics to tell you which campaigns are converting the best.
Our signature Exit Intent™ technology to convert abandoning website visitors into subscribers and customers.
Powerful A/B testing that helps you eliminate guess work and make data driven decisions on what works best.
MonsterLinks™ 2-step optin technology which is proven to boost conversions by as much as 785%!
Mobile specific popup forms that are specifically targeted towards mobile visitors.
Scroll triggered popup and optin forms for enhanced conversion rates.
Timed popup forms – display opt-ins after a certain time or on second pageview.
Canvas popup forms – use Canvas to add facebook like box, WooCommerce products, or anything else that you like.
MonsterEffects™ technology for eye-catching popup animations.
Success messages and redirects
Easy integration with over 19 different email marketing service providers
WPForms

WPForms allow you to create beautiful contact forms, subscription forms, payment forms, and other type of forms for your site in minutes, not hours.
WPForms is a 100% mobile responsive contact form solution, so your contact forms will always look great on all devices (mobile, tablet, laptop, and desktop).
Key features:
Online Form Builder – Our powerful drag & drop contact form builder allows you to easily create WordPress contact forms and other online forms in just a few minutes without writing any code.
100% Responsive – Mobile Friendly contact forms.
Form Templates – Use our pre-built form templates to save time. Never start from scratch again.
Spam Protection – WPForms utilizes smart CAPTCHA and Honeypot method to stop spam contact form submissions.
Instant Form Notification – Quickly respond to incoming inquiries with our instant contact form notification system.
Smart Form Confirmation – Show a custom success message, or redirect users to a custom thank you page.
File Uploads – Collect files and media through your contact forms with File Uploads.
Multi-Page Forms – Split long forms into multiple pages to improve user experience.
MailChimp Forms – Create MailChimp newsletter signup forms in WordPress and connect with your contact form to grow your email list.
AWeber Forms – Create AWeber newsletter signup forms in WordPress and connect with your contact form to grow your email list.
Campaign Monitor Forms – Create Campaign Monitor newsletter signup forms in WordPress and connect with your contact form to grow your email list.
GetResponse Forms – Create GetResponse newsletter signup forms in WordPress and connect with your contact form to grow your email list.
PayPal Payment Forms – Create PayPal forms to easily collect payments, donations, and online orders.
Stripe Forms – Easily collect payments, donations, and online orders with our Stripe addon.
User Registration Forms – Create custom WordPress user registration form.
Smart Conditional Logic – Show or hide fields and contact form sections based on user behavior.
Geolocation – Display location information about your users.
Custom Captchas – Create custom captchas for your contact form.
Login LockDown

As the name suggests, Login Lockdown limits the number of login attempts from a given IP range within a period. More precisely, Login LockDown records the IP address and timestamp of every failed login attempt. If more than a certain number of attempts are detected within a short period of time from the same IP range, then the login function is disabled for all requests from that range.
This helps to prevent brute force password discovery. Currently the plugin defaults to a 1 hour lock out of an IP block after 3 failed login attempts within 5 minutes. This can be modified via the Options panel. Administrators can release locked out IP ranges manually from the panel.
If you are a web designer, there is one more thing to worry about when creating a website – security. But, worry not, Awontis is here!